Testimonials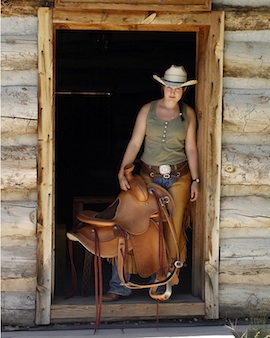 My adventure "UTAH"!
My name is Katja Kipperer, I'm 18 years old and I live in Styria, Austria. I'm a big fan from the western riding and love to work with horses. This kind of riding comes from the "wild west", that is why I always wanted to go there. After I finished my school (a special school for horses) in June 2012, I finally had the chance to live the ranch life for 2 months.
On 20 July the adventure was going on. From the green Styria to the dry Utah. Strictly speaking to Park City. I was staying with Dave Macfarlane and his family and I helped at his Barn in Coalville. Dave and his family did a lot of things with me such as pack trips and rodeos. He also allowed me to build my own saddle with Russ Fawson, who lives in Cedar City. That was one of the best experiences in America, because someday I want to be a saddle maker and want to have my own business in Austria. Because Russ lives in Cedar City, I lived with him and his family there for two weeks. At the beginning we have worked most of the day on the saddle, because I was so excited. Russ showed me the single steps and I imitated. The first few days were really hard, because the cut of the individual leather parts needed a lot of power. The saddle was finished in one and a half week. The closer we got on the target, the better I liked the work.
I'm really proud of my own saddle build by myself and I would like to thank Dave Macfarlane, Russ Fawson and everyone who gave me the chance of those adventures.
Katja Kipperer
Austria
---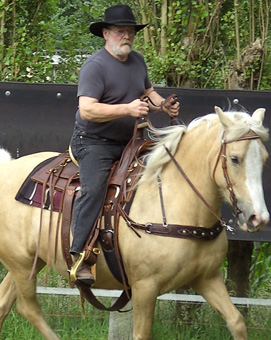 Hello Russ,
Thank you very much... [R.] tried already the saddle, and it fits just perfect. It sits comfortable, and it works smoothly in the legs (do you know what it mean, because R. give me the instruction to tell you something about the fenders and I try to translate it in the best way I can).
[R.] likes it to ride on his own in the nature. But he do know people who are fond of western saddles,and they know the difference between a good solid saddle and a saddle of less quality, and you may be sure that we are going to recommend you, so you can sell more saddles here in Belgium.
We were very satisfied about the way you handled everything correctly, and we thank you for that.
It was a pleasure to know you and to do business with you, May God bless you and your family...
R & C
Belgium
---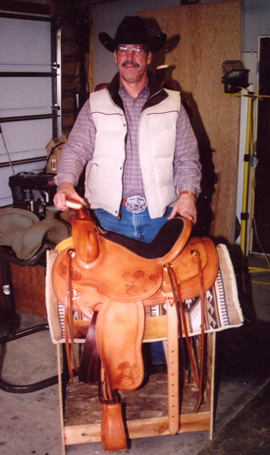 I have been in arenas and people on the far side have come over to me and complimented me and asked who made my saddle. I was on a cattle drive and the same thing happened. They are special Saddles and people can tell. I have a one and only Desert Rose saddle for my sorrow paint filly that Russ, with his artistic creativity has tooled flowering cactus as its theme. I have never seen one like it anywhere and the people that see it say the same.
My second saddle made for my black and white paint, is a half seat with matching bridle, rifle scabbard and leather cover canteen. All with original US stamping and brass accessories. It is an eye catcher and I have been in parades and people looking on have called out they want my saddle.
Russ Fawson not only makes his saddles look good but also with his attention to the custom size and fitting will allow you and your horse to perform as a team at your best.
Chris Bandley
Utah
---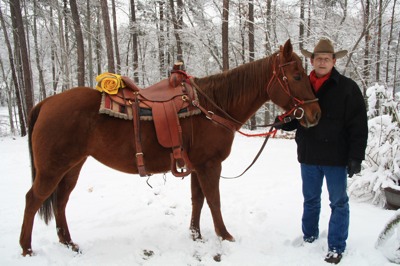 Russ,
Hi. I hope you and yours are having a nice Christmas. I've attached a pic of your saddle. This was taken earlier today. Love the saddle. Great workmanship and an unbelievable fit. Thanks so much for your dedication to quality! I received a lot of positive comments from friends.
take care,
Billy Totten
North Carolina
---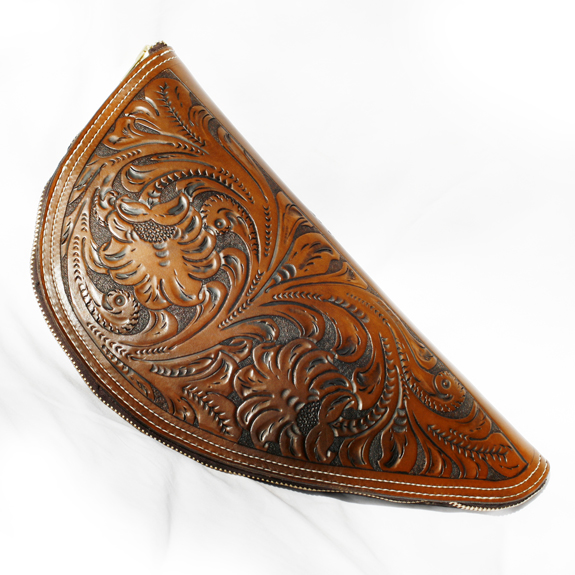 Russ,
Thank you for the superb work on the pistol rug. The tooling is superb and more skillfully rendered than the tooling shown in the photos I sent you of the antique case. Thank you for your time in making this an item I will be proud to keep and pass on. It will only get better with age and use.
It is a pleasure to have a custom item made by a man who excels in his craft. I'll be back.
Thank you again,
Scott
Ohio