About Russ Fawson
Russ Fawson has been tooling leather and making leather items since he was a child. Under master saddlemaker Jim Kelly's expert mentoring Russ expanded his natural abilities to the craft of western saddle making. Russ has discovered a love for building saddles and accessories designed specifically to suit the needs and tastes of his customers. He enjoys most making old west replica saddles, holsters and saddlebags. Russ' wife Becky, an accomplished artist, often designs the tooling patterns for his saddles.
Russ enjoys the outdoors, guns and horseback riding with friends. From John Wayne to ghost towns, Russ has always loved anything that conveys a spirit of the old west. His love for the old west, animals and the beauties of nature are reflected in his leather work and oil paintings.
Russ enjoys time with his family. He and his wife have 5 children and a growing number of grandchildren. When he is not in his saddle shop or working on an oil painting he can often be found camping with his family, cooking up a dutch oven dinner or playing with his grandchildren.
---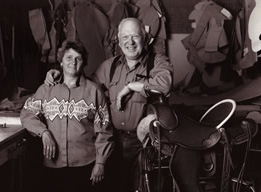 Jim Kelly
Jim Kelly was born and raised on a horse outfit; he has always owned and worked horses. Over the course of his career Jim has worked in several saddle shops as well as owning and operating several saddle businesses and shops of his own. Jim now spends his time building museum quality saddles and collectable saddles, along with his line of working saddles. Jim is considered to be one of the top five saddle builders in the country. Jim currently resides in Price, UT.